Line Change
Lashoff back in, Kindl out.
Lashoff played well while he was filling in on a banged up Red Wings blueline. He has been a healthy scratch since Jan. 27 but will re-enter the lineup tonight for Jakub Kindl.
Source: Ansar Khan 02/5/13, 8:02 am EST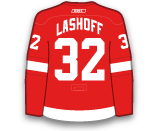 Line Change
Babcock said Lashoff is sitting out tonight to make room for Kindl.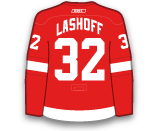 Call up / Send down
DETROIT -- The Detroit Red Wings assigned eight players today to the Grand Rapids Griffins: forwards Chris Conner, Joakim Andersson and Landon Ferraro; defensemen Doug Janik, Garnet Exelby and Brian Lashoff; and goaltenders Joey MacDonald and Jordan Pearce.