The Ducks will rest Beauchemin on Sunday.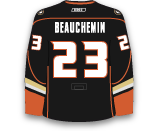 Beauchemin (rest) will not play Wednesday.
With eight healthy defensemen on the Ducks' roster, head coach Bruce Boudreau will rest one of their regular D-men each game down the stretch as the Ducks prepare for a run at the Stanley Cup. Sami Vatanen is expected to slide into the lineup for Beauchemin.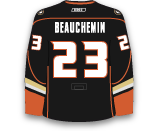 Francois Beauchemin (upper body) is expected to play on Sunday
Beauchemin has missed the lat 10 games with an upper-body injury that he suffered on November 20. Beauchemin was a fantastic plus-15 with six assists in the first 24 games, so expect him to pick up where he left off on Sunday.
Source: Dan Wood 12/14/13, 5:03 am EST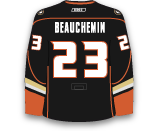 Francois Beauchemin (upper-body) on the ice at the Ducks' morning skate.
Despite his presence for the morning skate, Beauchemin is not expected to be back in the lineup until next week. Unless he drastically improved in the last few days, Beauchemin will not play against the Wild tonight. However this is great news for the Ducks as he inches closer to a return.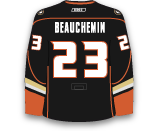 Francois Beauchemin (upper body) is on the trip but just to "get in shape" with the team, but is not close to returning according head coach Bruce Boudreau.
Beauchemin will miss his seventh consecutive game tonight after being injured on November 20 vs. New Jersey. From the sounds of what Bourdreau is saying, Beauchemin remains week-to-week at this point.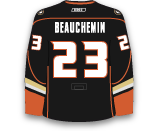 Francois Beauchemin (upper body) joining Ducks on trip. Don't know what it means for his status but a potential encouraging sign.
Beauchemin has missed the last six games with an upper-body injury. He was having a great go in the first 24 games, posting a six assists and a plus-15 rating (t-5th in NHL).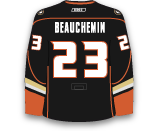 Bruce Boudreau said Beauchemin skated here last couple of days. Was evasive in whether he'd be in play tomorrow.
Beauchemin has missed the last five games with an upper-body injury. It does not sound like he will be in the lineup tomorrow, but Beauchemin wants to travel with the team on their two-game road trip starting Friday in Chicago. Monitor his status throughout the week.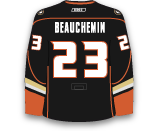 Beauchemin (upper-body) will not play tonight.
Beauchemin left Wednesday's game and did not return. This is a tough break for the Ducks blueline, who lose a 20-plus minute eater and plus-15. He is not expected to miss and extended period of time. Sami Vatanen has been recalled from Norfolk (AHL).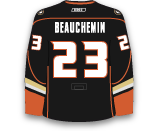 Ducks defenseman Francois Beauchemin played his first game since undergoing reconstructive surgery on his ACL last May and logged a shade over 20 minutes.
Beauchemin had one of the best years of his career in 2013. He scored six goals and added 18 assists (led all Ducks defensemen) in 48 games. At 33-years-old it might be hard for him to bounce back after ACL surgery, but playing over 20 minutes in his first preseason game is a good sign.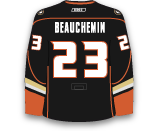 Ducks say Beauchemin had ACL reconstruction. Surgery went well, and he hopes to be ready for start of 2013-14 season.
Beauchemin played the first round vs. the Red Wings with a torn ACL.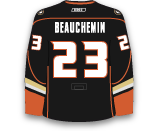 Francois Beauchemin said that he has a torn labrum and will have surgery on it Thursday. Said he thinks it'll take 3-4 months recovery.
Beauchemin should be able to return before next season starts. He scored eight goals and 22 points in 82 games with the Ducks.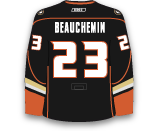 From #NHLDucks: Former #Leafs D Francois Beauchemin signs a 3-year extension. #NHL
In signing Beauchemin, the Ducks ink a player who was more of the solution than the problem. It also makes the Joffrey Lupul trade look a bit better. He has six goals and 18 points through 45 games this season.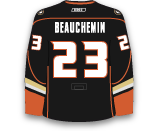 Beauch in and Parros available.
Just a maintenance day as Beauchemin will stay in the lineup. The minute eater has four goals and 10 points through 29 games.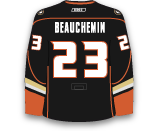 Francois Beauchemin and Saku Koivu returned to Ducks practice Tuesday. Both missed Monday because of the flu.
Feel free to start both skaters with confidence as they kicked the flu bug.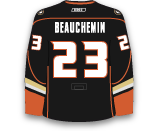 Francois Beauchemin and George Parros not skating either.
The Ducks don't play until Wednesday so they can afford to rest some of their veterans. Check back tomorrow to find out if he gets back into practice.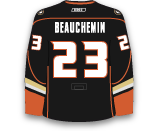 Carlyle on Beauchemin: maintenance day and fully expected to be available for Friday's #NHLDucks v. #Preds game.