Call Up
The Bruins have recalled Paul Postma from Providence (AHL).
Postma has picked up five assists in five games since joining Providence (AHL). His call-up suggests that one or both of Zdeno Chara and Torey Krug won't be available tonight after getting hurt in Tuesday's win in Carolina. Postma had one assist in 12 games with the Bruins earlier this season.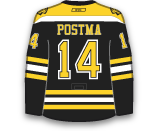 Postma will be back in the Bruins lineup on Wednesday.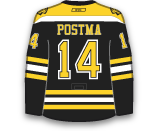 Signing
The Bruins have signed Paul Postma to a one-year deal worth $725K.
Postma posted elite numbers in juniors 10 years ago and has had great seasons in the AHL but that game has failed to translate into the NHL. Postma has a strong shot and should help infuse some offence into the Bruins bottom-pairing and help replace the loss of Colin Miller.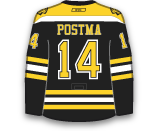 Injury
Postma (lower-body) will not play on Sunday.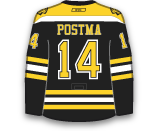 Injury
Postma will be out for "weeks" because of a lower-body injury.
Postma was injured in his first game back on Saturday. The unspecified injury will cost him a few weeks at least.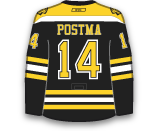 The Jets have recalled Paul Postma from St. John's (AHL).
Postman was with St. John's on a conditioning assignment after missing three months with a blood clot in his leg. While in St. John's he recorded one goal and five assists in four games. He has yet to register a point in eight contests with the Jets.
Source: Rick Ralph 02/7/14, 7:26 am EST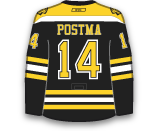 Signing
The Winnipeg Jets have signed defenceman Paul Postma on a new two-year contract worth $1.425 million US.
Postma, 24, played in 34 games with the Jets during the 2012-13 season. The native of Red Deer, Alta., recorded nine points (four goals, five assists) and six penalty minutes. He has played in 38 career NHL games with the Atlanta/Winnipeg franchise. He was originally drafted by the Thrashers in the seventh round, 205th overall, in the 2007 NHL draft.
Source: CBC.ca 07/22/13, 11:02 am EST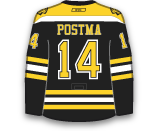 Hainsey just confirmed he's in, Postma will be out
Postma has just one assist in his last nine games played.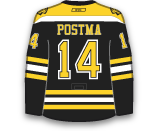 The Winnipeg Jets announced today they have re-assigned defenceman Paul Postma to the St. John's IceCaps.
Postma has no points in three games this season. The offensive defender loses all immediate fantasy hockey value with this demotion.
Source: Brian Munz 01/20/12, 5:52 am EST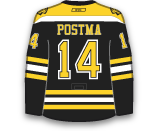 Winnipeg Jets announce the recall of defenseman Paul Postma
Postma currently has six goals and 27 points in 30 AHL games. He may be able to translate that success over to the NHL level if given some PP time.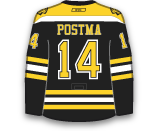 Demoting D Paul Postma
Postma failed to score a point over his three games with the team. He loses all of his fantasy hockey value with the demotion.
Source: Ken Wiebe 11/13/11, 8:12 am EST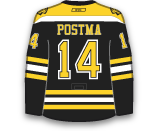 Paul Postma to return to lineup.
Postma is an intriguing option as an offensive defenseman who simply dominated the AHL. He is still looking for his first NHL point after playing three games.
Source: Ken Wiebe 11/12/11, 7:01 am EST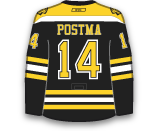 recalled Paul Postma from St. John's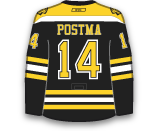 The #jets assign Janne Pesonen, Paul Postma and Jason Gregoire to AHL St. John's.
No immediate fantasy hockey value in the AHL.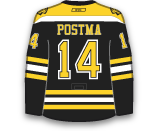 Meech and Postma, playing similar, offensive styles, can't both stay, can they? Postma, not on Wednesday's roster, likely has the agonizing chore of waiting for Friday to get his last chance.
Postma scored 12 goals and 45 points last season with the Chicago Wolves of the AHL, earning a one-game tryout with the big club. He's proved himself ready for the NHL but it remains uncertain whether he will receive a chance with the Jets this season.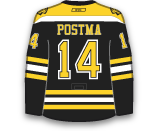 Postma is what they call a "bubble guy" — he could land on the big club, or fall back to the farm.
Postma could make the roster as a spare defender as he has little left to prove at the AHL level. The former WHL standout scored 12 goals and 45 points last season for the Chicago Wolves. With Tobias Enstrom and Zach Bogosian ahead of him on the depth chart, don't expect too much production from the 22-year-old.