Call Up
The Rangers have recalled Ryan Sproul from Hartford (AHL).
Sproul has picked up 10 goals and 15 assists (25 points) in 44 games with the Wolf Pack this season. He had two assists in four games with the Rangers earlier this year and has been recalled because Anthony DeAngelo was hurt on Monday.
Source: @NYRangers 03/13/18, 2:30 pm EST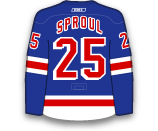 Send Down
The Rangers have re-assigned Sproul to Hartford (AHL).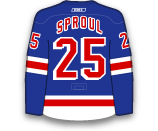 The Red Wings traded Ryan Sproul to the Rangers for Matt Puempel.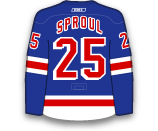 Injury
Sproul is out indefinitely with a sprained knee.
Sproul left Saturday's game in Edmonton after spraining his knee while falling on his own. Sproul had to be helped off of the ice and there is no timetable for his return to the Red Wings' lineup. Robbie Russo was recalled from Grand Rapids (AHL) to take his spot in the lineup on Tuesday.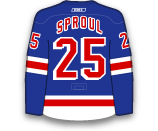 Injury
Sproul will return to the Red Wings lineup on Thursday.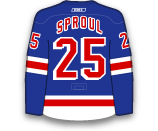 Line Change
Sproul will be a healthy scratch on Sunday.
Sproul played in five consecutive games, but will come out of the lineup tonight. Sproul, who will be replaced by Xavier Ouellet, had two assists and 11 shots while averaging 15:14 TOI in those five contests.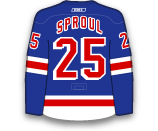 Line Change
Sproul will make his season debut on Friday.
Sproul make the Red Wings roster out of trading camp but was a healthy scratch in the first four games of the season. Tonight the second round pick (55th overall in 2011) will replace Xavier Ouellet in the lineup and skate on the second power-play unit as well. Sproul had 12 goals and 23 assists (35 points) in 75 games with Grand Rapids (AHL) last year.
Source: Ansar Khan 10/21/16, 8:19 am EST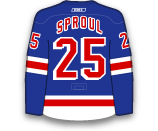 Call up / Send down
The Red Wings have recalled Ryan Sproul from Grand Rapids (AHL).
With Jakub Kindl (knee) out for the next two games, Sproul has been recalled to serve as the Red Wings extra defenseman. He has registered eight goals and 16 assists (24 points) in 53 games with Grand Rapids this season.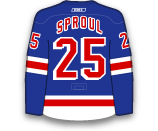 Signing
Transaction: Xavier Ouellet and Ryan Sproul have both been signed to three-year entry-level contracts.
Sproul just finished his second year with the Sault Ste. Marie Greyhounds of the OHL, scoring 23 goals and 54 points in 61 games.