The Jets have signed Nelson Nogier to a two-year, two-way contract.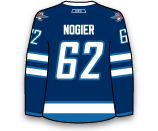 The Jets have signed Derek Forbort to a one-year deal worth $1.0 million.
The Jets have signed Dominic Toninato to a one-year, two-way contract.
Signing
The Jets have signed Nate Thompson to a one-year deal worth $750K.
Thompson has been making his rounds in recent years, as he lands with his sixth team in five years. The 36-year-old provides almost no offence but will serve as a fourth-line centre and is a quality penalty-killer.
Signing
The Jets have re-signed Mason Appleton to a two-year extension worth $1.8 million ($900K AAV).
Appleton produced high-end numbers at Michigan State and in the AHL but has just 18 points (8G / 10A) in 82 career NHL games. Given the Jets' solid depth on the wing, Appleton will likely be a fourth liner for the duration of 2021, making it unlikely for his numbers to improve.
Doctors have told Bryan Little he should not play hockey during the upcoming season.
Little has been dealing with concussion-like symptoms since taking a puck to the head last November and hasn't played since. Doctors have advised Little not to play in the 2021 season, so unfortunately this could be the end of the 32-year-old's career. Paul Stastny was acquired to serve as the Jets' No.2 centre, a role typically filled by Little.
The Jets have inked Luca Sbisa to a one-year deal worth $800K.
Sbisa was part of the Jets' blueline rotation in 2020, tallying 10 points (2G / 8A) in 44 games. Sbisa is a big, physical defenseman, who ranked second among Jets' defensemen in Hits/60. Without adding any defensemen as of now, Sbisa will likely serve a similar role in 2021.
The Jets have re-signed Nathan Beaulieu to a two-year deal worth $2.5 million ($1.25M AAV).
Beaulieu missed the second half of the 2020 season, playing just 38 of the 71 games (53.5%). The offence that he showed at lower-levels has never translated to the NHL but he's a reliable top-4 defenseman for Winnipeg, when he's healthy.
The Jets have acquired Paul Stastny from the Golden Knights for a 2022 fourth-round pick and Carl Dahlstrom.
Instead of overpaying a centre for four or five years in free agency, the Jets go back to a player they're familiar with via trade. Stastny was acquired at the trade deadline in 2018 and he had 28 points (10G / 18A) in 36 games between the regular season and playoffs combined. At 34-years-old, Stastny isn't the player he once was but he is a good short-term solution as the Jets' second line centre.
The Jets have signed Dylan DeMelo to a four-year deal worth $12.0 million ($3.0M AAV).
DeMelo was set to become a UFA on Friday but the Jets have locked him up through the 2024 season at $3.0M. This is a fair price for a defenseman, who is a pretty good offensive play driver who is also rock solid in his own end. DeMelo had 10 assists, 105 hits and 77 blocked shots in 59 games between the Senators and Jets last season.
The Jets have signed Laurent Brossoit to a one-year, $1.5 million contract extension.
Brossoit did not enjoy the same level of success in year two with the Jets but was solid enough to stay on as Connor Hellebuyck's backup for at least one more year. Brossoit went 6-7-1 with a 3.28 GAA and .895 SV% in 2020 and is now 19-13-3 with a 2.87 GAA and . 912 SV% in 40 career games (34 starts) with the Jets.
Stastny is on the ice for warmups; expected to play in Game 5.
Stastny will be scratched for the second straight game.
Stastny will not play in Game 3 vs. Chicago.
Laine is not on the ice for warmups; will not play in Game 4.
Scheifele is not on the ice for warmups; will not play in Game 4.
Goalie Start
Hellebuyck led the Jets onto the ice for warmups.
Line Change
Toninato is expected to draw into the Panthers lineup for Game 3.
Appleton will not suit up for Game 3 vs. Calgary.
Laine will not play in Game 3 vs. the Flames.