Goalie Start
Kuemper will likely start Thursday vs. the Predators.
Goalie Start
Vasilevksiy is expected to start Thursday in Boston.
Vasilevskiy stopped 33 of 34 shots in the Lightning's win in Montreal on Tuesday. It was Vasilevskiy's best outing of the young season and moved him to 3-1-0 with a 2.53 GAA and .921 SV% in four starts. Tonight he faces the Bruins in an Atlantic Division clash. He only faced Boston once last season (a 5-4 win) but they provide a stiff test, even without David Krejci on the second line.
Erne (upper-body) will be a game-time decision on Thursday.
Erne suffered an upper-body injury in the Red Wings loss in Vancouver on Tuesday but could play Thursday in Calgary. Erne has no points and 11 shots in six games this season, so even if he does end up playing he carries very little to no fantasy value.
DeKeyser (mid-body) will be a game-time decision on Thursday.
DeKeyser was a late-scratch in Vancouver on Tuesday and missed Wednesday's practice but remains a game-time call for tonight's game in Calgary. The recently acquired Alex Biega will remain in the Red Wings lineup if DeKeyser can't play against the Flames.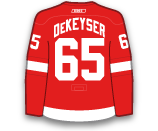 Nemeth (illness) is expected to play on Thursday.
Nemeth is fighting an illness but said that he "feels better" and head coach Jeff Blashill anticipates him playing on Thursday. Nemeth has one assist and 14 shots in his first six games with the Red Wings.
Line Change
Paul will make his season debut on Thursday.
Paul had one goal and three assists in three games with Belleville (AHL) before being recalled on Monday. Paul will draw-in on the Senators' fourth line with Jordan Szwarz and Scott Sabourin and has eight points (4G / 4A) in 56 career NHL games.
Goalie Start
Howard will start Thursday in Calgary.
Tavares will miss at least two weeks with a broken finger.
Tavares sustained a broken finger late in the Maple Leafs' loss to the Capitals on Wednesday. Tavares will be out for at least two weeks and will be re-evaluated by the medical staff at that point. This is obviously a massive blow for the Maple Leafs and a rarity for Tavares, who has only missed a combined nine games over the last five seasons.
Source: @LeafsPR 10/17/19, 2:20 pm EST
Goalie Start
Fleury is expected to start Thursday vs. the Senators.
Suspension
The NHL has suspended Valentin Zykov for 20 games for violating the terms of the NHL Performance Enhancing Substances Program.
This is the second Golden Knights' player to get suspended for PEDs in the last two seasons. Zykov's suspension likely means that Brandon Pirri will be in the lineup on Thursday but it could also mean an extended stay for Cody Glass. A 20-game suspension means Zykov isn't eligible to return until November 29th vs. The Coyotes.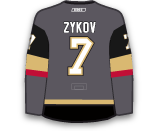 Goalie Start
Campbell was the first goalie off of the ice at the Kings morning skate.
Anderson (upper-body) returned to practice on Thursday.
Anderson has missed the last four games with an upper-body injury but returning to practice is a big step towards returning to the Blue Jackets' lineup. Head coach John Tortorella did not have much of an update on Anderson but said that "he's progressing."
Goalie Start
Varlamov was the first goalie off of the ice at the Islanders morning skate.
Varlamov gave up two goals on 37 shots in the Islanders win over the Panthers last Saturday. Varlamov and Thomas Greiss continue to alternate games, with both netminders playing well in recent outings. As a former member of the Avalanche, Varlamov has seen a lot of the Jets in recent years—going 4-3-0 with a .928 SV% against them over the last three years.
The Hurricanes have reassigned Brian Gibbons to Charlotte (AHL).
Gibbons did not have a point in two games with the Hurricanes and returns to the AHL, where he has one goal and three assists (four points) in four games.
Source: @Canes 10/17/19, 1:04 pm EST
Thomas (upper-body) will return to the Blues lineup on Thursday.
Thomas has been out since October 2nd but will play Thursday after a five-game absence. Thomas, who played just 9:45 TOI in the season opener, will return on the Blues fourth-line, so he doesn't have any fantasy value at the moment.
Source: Jim Thomas 10/17/19, 1:03 pm EST
Goalie Start
Price will make his fourth consecutive start on Thursday.
Price gave up three goals on 22 shots in the Canadiens loss to the Lightning on Tuesday. Through five starts, Price has allowed at least three goals in every game, totalling in a 3.33 GAA and .896 SV%. It's not a good streak but a home matchup with the Wild is a good opportunity to end it. Minnesota is 1-5-0 and are averaging just 2.33 goals per game (t-26th).
Source: Stu Cowan 10/17/19, 1:33 pm EST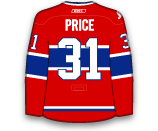 Goalie Start
Demko is in the starter's crease at the Canucks morning skate.
Goalie Start
Rittich will start Thursday vs. the Red Wings.
Goalie Start
Binnington will start Thursday vs. the Canucks.
Binnington allowed three goals on 32 shots in the Blues overtime loss to the Islanders on Monday. Binnington has now lost two in a row and three of his first five starts (2-1-2) while posting a 2.97 GAA and .910 SV%. Tonight he faces a Canucks team on a three-game winning streak while outscoring their opponents 16-to-5.
Source: Jim Thomas 10/17/19, 2:24 pm EST
Rask (lower-body) is not expected to play on Thursday.
Rask did not take part in the Wild's morning skate and is expected to miss tonight's game in Montreal. With Rask out, Kevin Fiala is expected to be back in the Wild lineup.