Fast (undisclosed) will not play in Game 2 on Monday.
Fast was hurt on his first shift of the series while absorbing a hit from Hurricanes defenseman and former teammate Brady Skjei. Fast never returned to Game 1 and will not be available for Game 2. Look for Steven Fogarty to take his place in the lineup but for Kaapo Kakko to move up into the top-6 with Artemi Panarin and Ryan Strome.
Pacioretty (undisclosed) will not play on Monday but is "on the horizon."
Schmaltz "unfit to play" in Game 1 vs. the Predators.
Rask (undisclosed) is "unfit to play" Sunday vs. the Flyers.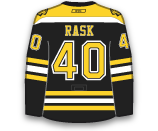 DeAngelo (undisclosed) will play in Game 1 vs. the Hurricanes.
DeAngelo (undisclosed) is on the ice for warmups; may play in Game 1 vs. Carolina.
Necas (undisclosed) is on the ice for warmups and is expected to play in Game 1.
Shesterkin (undisclosed) is "unfit to play" in Game 1 vs. the Hurricanes.
DeAngelo (undisclosed) will be a game-time decision for Game 1.
DeAngelo missed Friday's practice and head coach David Quinn has listed him as a game-time decision for Saturday's series opener. If DeAngelo can't play, look for Adam Fox or Jacob Trouba to move to the top power-play unit.
Source: Jon Lane 07/31/20, 1:37 pm EST
Necas (undisclosed) practiced on Friday; could play in Game 1.
Necas hasn't been on the ice much during the NHL's Return to Play Program but head coach Rod Brind'Amour said that he "looked really good" on Frida and has not ruled him out for Game 1 on Saturday. Monitor Necas' status as the Hurricanes hit the ice for warmups at 11:30 am ET.
Hamilton (undisclosed) will not play in Game 1.
Hamilton was set to return from a broken leg before he suffered a new injury in Training Camp 2.0. Head coach Rod Brind'Amour ruled him out for Game 1 vs. the Rangers on Saturday but said he's getting better and would not rule out a potential return during the five-game series.
Makar (undisclosed) is expected to be ready for the round-robin.
Makar missed some time during training camp but participated in the final practice before entering the bubble. While speaking with the media on Monday, Makar said "I feel perfect now," which is a great sign for the Avalanche, who begins Western Conference round-robin play on Sunday. Makar had 50 points (12G / 38A) in 57 games during his rookie campaign and had six points (1G / 5A) in 10 playoff games last year.
Pacioretty did not travel to Edmonton with his team.
Pacioretty is battling what was described as a "minor" injury but staying back in Vegas for now makes it seem a little more serious. Head coach Pete DeBoer said that Pacioretty will join the team when he is "healthy and available" but there's no indication how long that will be.
Samsonov (undisclosed) is expected to miss the 2020 playoffs.
Samsonov did not travel to Toronto and will remain in Washington to undergo treatment. The Capitals expect Samsonov to be healthy for the 2020-21 season, which means Braden Holtby is now their unquestioned starter heading into the playoffs. Pheonix Copley and Vitek Vanecek will battle it out for the backup position.
Crawford (Covid-19) entered the bubble with his team on Sunday.
Crawford missed the start of Phase 3 training camp and it was revealed that absence was because the goaltender tested positive for Covid-19. On Sunday, he was included on the Blackhawks' playoff roster and travelled to Edmonton with the team. Head coach Jeremy Colliton said the team is "trying to get [Crawford] up to speed as quick as we can." It's unclear whether or not Crawford will be ready to start Wednesday's exhibition game vs. the Blues or Game 1 vs. the Oilers on Saturday.
Hedman (personal) did not travel with the team but is expected to be available for the Round Robin games.
The Tampa Bay Lightning entered the playoff bubble in Toronto on Sunday but Hedman remained in Tampa for a "personal matter." Hedman and Tampa's strength coach will stay back until Friday, at which point both will fly to Toronto and meet back up with the team. Hedman will miss Tampa Bay's exhibition game against the Panthers on Wednesday but will be available for all three round-robin games, general manager Julien BriseBois said.
Hamilton (undisclosed) reportedly expected to miss "weeks."
Hamilton reportedly suffered a new injury, unrelated to the broken leg which forced him to miss the final two and half months of the regular season. Sara Civ of The Athletic reported that Hamilton's absence is "in the realm of weeks not months." This is untimely news as the Hurricanes enter the hub city bubble and get set to face the Rangers on Saturday. Carolina was 11-7-3 (11th in the NHL) after Hamilton was hurt in mid-January.
Crosby (undisclosed) returns to practice on Friday.
Crosby has been absent since getting hurt in Monday's scrimmage game. He skated on his own prior to their scrimmage on Thursday but was deemed "unfit to play." On Friday he joined his teammates for practice, which is a good sign that he'll be available for Game 1 vs. the Montreal Canadiens.
Crosby (undisclosed) misses Monday's scrimmage.
Crosby was left Saturday's scrimmage early and did not take part in Monday's intrasquad game. It's unclear how serious his injury is at this time but the Penguins' first playoff game isn't for 11 more days, so he has ample time to get back to 100 percent.
Source: @penguins 07/20/20, 11:45 am EST
The Blue Jackets added Josh Anderson (shoulder) to their 34-man roster on Sunday.
Anderson has not played since December 14th and underwent shoulder surgery in March. Anderson skated on his own on Sunday but has yet to join the team sessions. Blue Jackets coach John Tortorella had "no information at all" on Anderson, so it's unclear whether the power-forward could be ready for the Maple Leafs or any potential series beyond that.