Send Down
The Devils have assigned Cam Johnson to Binghamton (AHL).
Johnson served as Keith Kinkaid's backup for three games while MacKenzie Blackwood was hurt. Johnson returns to the AHL, where he has gone 6-8-0 with a 3.91 GAA and .866 SV% in 14 games this season.
Source: @NJDevils 01/12/19, 10:43 am EST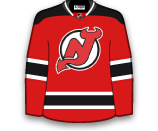 The Devils have recalled Cam Johnson from Binghamton (AHL).