The Red Wings have signed Frans Nielsen to a six-year deal worth $31.5 million ($5.25M AAV).
Nielsen has flown under the radar for much of his NHL career, but has finally been rewarded with a huge deal in Detroit. He has averaged 20 goals and 39 assists per 82 games in his last three years with the Islanders and will fill the hole left by Pavel Datsyuk's departure for the Red Wings. He is a solid two-way centre, who creates offence for his line mates while also helping out Detroit's special teams on both the power play and penalty kill.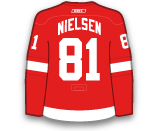 Nielsen (rest) will not play on Sunday.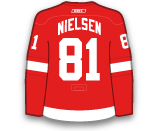 Nielsen (undisclosed) will not play on Friday.
Nielsen will miss his second straight game with an undisclosed this morning. Nielsen travelled with the team, so there is a good chance that Nielsen will be ready to go for the playoffs.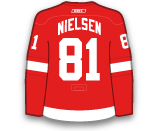 Nielsen (undisclosed) is not expected to play on Tuesday.
Nielsen will be held out of the lineup tonight because of an undisclosed injury. With Nielsen out, Josh Bailey is expected to shift to centre and play in Neilsen's spot. He is listed as day-to-day.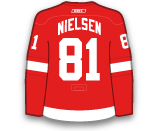 Nielsen (undisclosed) will play on Thursday.
Nielsen was listed as questionable for tonight's game, but he will be in the lineup tonight in Columbus. Nielsen comes in with two goals and one assist in his last six games and 42 points (14G / 28A) in 76 games this season.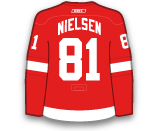 Nielsen (undisclosed) is questionable for Thursday's game.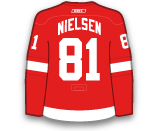 Nielsen in; Strome out.
Nielsen was given last night off, but he will be back in the lineup tonight vs. the Canadiens. Ryan Strome will take the night off.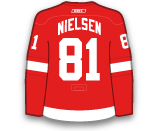 Nielsen (undisclosed) will be held out of Friday's contest.
Nielsen is reportedly dealing with a nagging injury, so he will be given the night off as a maintenance day. With Nielsen coming out of the lineup, Michael Grabner will be back in.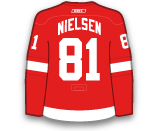 Nielsen (hand) has been activated from IR and is expected to play tonight.
Nielsen has missed the last two games with a broken hand that he suffered after being slashed by Erik Johnson before the break. Nielsen is expected to centre the top line with Thomas Vanek and Kyle Okposo on his wings.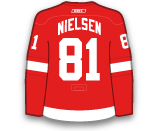 Nielsen (broken hand) was placed on injured reserve, retroactive to February 8.
With John Tavares out for the rest of the season, Nielsen is expected to become the Islanders top centre, however they will be without him as well until he fully recovers from a broken hand. Nielsen should be back by this time next week.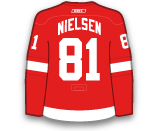 Isles forward Frans Nielsen fined $5,000 by the NHL for slashing Martin Hanzal last night.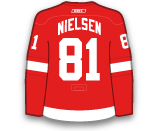 Injured Isles C Frans Nielsen participated in AM skate, said he feels good but up to coaches, doctors whether he plays Game 6 vs. #Penguins
Nielsen was hurt in Game 5, but it sounds like he will be able to go tonight. The Islanders will definitely be in trouble if their second line center is unable to play.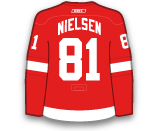 The Isles also lost another key player when Frans Nielsen left the game in the third period with a lower-body injury. There was no immediate word on his availability for Game 6.
This would be a big loss for the Islanders. It is already going to be tough enough to win the next two games vs. the Penguins but to have to do it without your second line center makes it even more difficult. Nielsen has two assists through five games.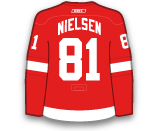 Lines for tonight for #Isles: Ullstrom-Nielsen-Bailey
Nielsen moves off his usual second line. He has 13 goals and 29 points in 62 games.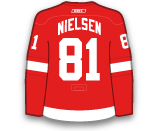 Been so wrapped up in draft coverage, apologize if this is old news: NYI sign Frans Nielsen to 4 year, $11M extension. Takes him out of UFA.
The Isles lock in Nielsen, who has done a fine job as the team's second line center this season. The Danish pivot has nine goals and 25 points in 51 games.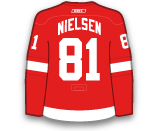 Frans Nielsen appears to be in the dressing room for #Isles. No word on problem.
Nielsen is a big part of the club's second line and top power play unit. The Danish center has five goals and 16 points through 35 games. Expect a further update on his status.