Call up / Send down
The Kings have recalled Jordan Weal from Manchester (AHL).
Weal, 22, has 19 goals and 46 assists (65 points) in 70 games with Manchester this season. With the Kings out of the playoffs, Weal will likely make his NHL debut on Saturday. He was a third round pick (70th overall) in 2010.
Source: Jon Rosen 04/11/15, 9:26 am EST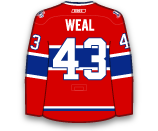 Call up / Send down
eturned to juniors were Michael Schumacher, Jordan Weal, Christopher Gibson, Pierre Durepos, Michael Morrison, Taylor Carnevale and Michael Kantor.
Weal failed to make the cut, which speaks more to the supporting cast in Los Angeles than his talent level. Last season, the pivot scored 43 goals and 96 points for the Regina Pats of the WHL. Keep an eye out for him in a few seasons.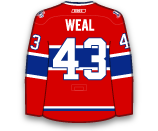 The Kings have signed forward prospects Tyler Toffoli and Jordan Weal to standard three-year, entry-level contracts. Both players are currently with the AHL's Manchester Monarchs under amateur-tryout agreements, so this does not change their short-term status.