Hajek suffered a separated shoulder on Saturday.
Hajek is not expected to be in the lineup on Monday after suffering a separated shoulder vs. the Devils on Saturday. Marc Staal will likely replace him on Monday.
Source: @NYRangers 03/11/19, 3:13 pm EST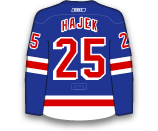 The Rangers recalled Hajek from Hartford (AHL) on Thursday.