The Canadiens recalled Lukas Vejdemo from Laval (AHL).
Vejdemo has picked up 19 points (9G / 10A) in 46 AHL games this season but has no points in his first four career NHL games. With Tomas Tatar dealing with an upper-body injury, Vejdemo returns to the AHL where he will likely slot in on the fourth line on Thursday.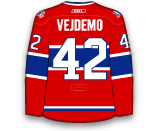 Send Down
The Canadiens have assigned Lukas Vejdemo to Laval (AHL).
Vejdemo appeared in four of the last five games but failed to record a point while playing 7:30 ATOI. His return to the AHL suggests that Brendan Gallagher could be back in the lineup on Thursday. The 23-year-old heads back to Laval, where he has 16 points (8G / 8A) in 30 games.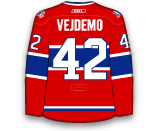 Line Change
Vejdemo will be back in the Canadiens lineup on Tuesday.
Vejdemo was a healthy scratch last night vs. the Jets but will replace Jordan Weal on the fourth line in Detroit. He is still searching for his first career NHL point after being held off of the scoresheet in his first three games.