Fayne left Tuesday's game with an undisclosed injury and did not return.
Fayne appeared in just 4:34 TOI before leaving the game. There is no word on how Fayne suffered the injury or how serious the injury is. Consider Fayne as day-to-day and questionable for Thursday and Friday's games.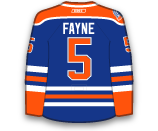 The Oilers have recalled Mark Fayne from Bakersfield (AHL).
One day after being sent to Bakersfield, Fayne has been recalled because Eric Gryba was moved to IR. There's no word whether or not Fayne will draw back into the lineup on Thursday.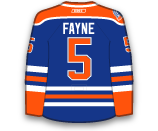 Fayne cleared waivers and has been reassigned to Bakersfield (AHL).
Fayne only appeared in one game with the Oilers this season and was beat out by Matt Benning, so he heads back to Bakersfield. Sending him to the AHL clears some salary space for the Oilers.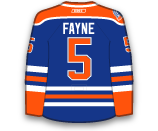 The Oilers have placed Mark Fayne (undisclosed) on injured reserve.
Fayne played just 2:27 TOI in his season debut on Tuesday before leaving the game with an undisclosed injury. With Fayne on IR that opened up a roster spot for the Oilers to recalled Ben Betker from Bakersfield (AHL).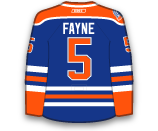 Fayne was recalled from Bakersfield (AHL) on Sunday.
Fayne struggled with the Oilers earlier in the year, so he was sent down to Bakersfield, where he collected one assist in five games. He will be back in the Oilers' lineup on Monday, paired with Andrej Sekera. He has just one assist in 24 games with Edmonton.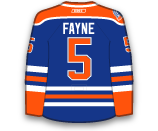 Waiver Move
The Oilers have placed Mark Fayne on waivers for purpose on assignment.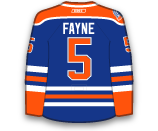 Fayne (shoulder) will not play on Friday.
Fayne left Wednesday's game with a shoulder injury and it will keep him out of tonight's game against the Stars. Fayne will be replaced by Brandon Davidson, who was recalled on an emergency basis.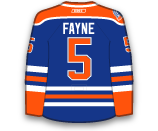 Fayne tweaked something this morning and may not play tonight.
There is no word on what is ailing Fayne, but he might come out for Keith Aulie tonight vs. Anaheim. Consider him a game-time decision.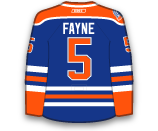 Signing
The Oilers have signed Mark Fayne to a four-year, $14 million dollar deal.
Fayne, 27, had 11 points in 72 games with the Devils last season. He heads to Edmonton where he will be one of the older players on what is a very young and inexperienced blueline. He plays a solid defensive game but is not fantasy relevant.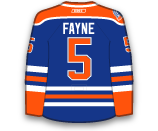 Line Change
Pete DeBoer confirms that Fayne is in for Tallinder today.
Fayne has 3 assists in 12 games this season.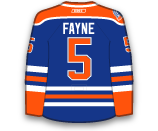 Line Change
Matt Taormina-Mark Fayne
Fayne moves down to the third pairing and will play with rookie Matt Taormina. He has three goals and seven points through 35 games.