Injury
Tryamkin (mumps) will not play on Saturday.
Mumps is ripping through the Canucks' dressing room and will keep Tryamkin out of the lineup tonight. With Tryamkin out, Philip Larsen is expected to draw back into the lineup.
Source: Jon Abbott 02/25/17, 9:32 am EST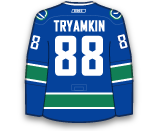 Line Change
Tryamkin will make his season debut on Thursday.
Tryamkin, 22, sat for the first 10 games of the regular season, but will play tonight with Chris Tanev coming out of the lineup due to a lower-body injury. Tryamkin is a monster at 6-foot-7, 228 lbs. but doesn't possess a lot of offensive upside. Tryamkin had one goal, one assist and 11 shots in 13 games last season.
Source: Jon Abbott 11/3/16, 1:50 pm EST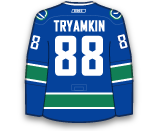 Call up / Send down
Nikita Tryamkin is expected to make his NHL debut on Wednesday.
Tryamkin, 21, is a monster of a defenseman, standing in at 6-foot-7, 228 lbs. He was the Canucks third round pick (66th overall) in 2014 and will make his NHL debut tonight after spending four seasons in the KHL. He had 11 points, 71 PIMS and a minus-3 rating in 53 games with Yekaterinburg Automobilist this season.