Johns (head) is targeting his season debut on Sunday.
Johns has missed the first seven games of the season, but could make his return to the lineup this weekend. The 26-year-old will likely replace either Roman Polak or Julius Honka and is coming off of a 2017-18 season where he had 15 points (8G / 7A) in 75 games.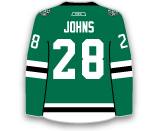 The Stars signed Stephen Johns to a three-year extension worth $7.05M ($2.35M AAV).
Johns, 26, has improved in each of his two and a half NHL seasons since being drafted No.60 overall pick in 2010. Johns is a big, bruising defenseman, who led the Stars in hits (2.7 hits per game) last season while scored eight goals with seven assists (15 points).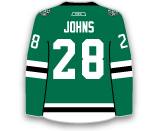 Johns left Friday's game with an upper-body injury and did not return.
Johns played just 8:18 TOI before leaving last night's win over the Flames with an upper-body injury. The Stars did not say anything about Johns injury postgame, but they are off until next Tuesday so they have a few days to evaluate him.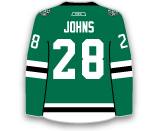 Johns suffered a concussion in Tuesday's game in Colorado.
Johns played just 5:32 TOI before departing Tuesday's contest and being diagnosed with a concussion. Dallas in Edmonton on Thursday, so don't expect Johns to be on the blueline.
Source: Mike Heika 10/25/17, 6:40 am EST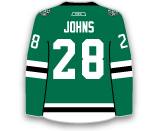 Johns (undisclosed) is doubtful for Friday's game.
Johns suffered an undisclosed injury in the Stars' loss to the Blues on Tuesday. It looks like Johns will sit out for the final game before the Christmas break, which means with Jamie Oleksiak or Patrik Nemeth will get back into the lineup. a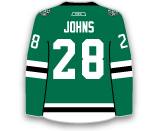 Call up / Send down
The Stars have recalled Stephen Johns from Texas (AHL).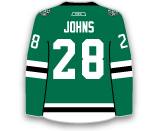 Call up / Send down
The Stars have sent Stephen Johns to Texas (AHL).