The Sharks have signed Ozzy Wiesblatt to a three-year, entry-level contract.
The Sharks have signed Matt Nieto to a one-year contract.
The Sharks have signed Patrick Marleau to a one-year deal worth $700K.
The Sharks have re-signed Kevin Labanc to a four-year deal worth $18.9 million ($4.725M AAV).
Labanc was an RFA after his one-year bridge deal expired and earned a big raise from $1.0M AAV to $4.725M over the next four years. Labanc enjoyed a breakout season in 2019 but his numbers dropped off in 2020. There was no way he was going to maintain the 13.1 SH% from 2019 but his on-ice SH% plummeted to 6.6%, so expect his assist total to bounce-back in 2021.
The Sharks have signed Stefan Noesen to a one-year contract worth $925K.
Noesen signed with the Penguins last December but was claimed off of waivers by the Sharks a few weeks later. He played out the rest of the season in San Jose, recording six goals and two assists (eight points) in 34 games. Noesen will likely serve as a 12th/13th forward for the Sharks in 2021.
The Sharks have acquired Devan Dubnyk and a 2022 seventh-round pick from the Wild for a 2022 fifth-round pick.
Dubnyk struggled mightily in 2020, going 12-15-2 with a 3.35 GAA and .890 SV% in 30 games. San Jose is taking a low-cost, low-risk flier on a 34-year-old, who had a 2.41 GAA and .918 SV% in the four seasons prior to 2020. The Wild are retaining the maximum of half of Dubnyk's salary, so he'll cost them $2.17M AAV against the cap next season.
Source: PuckPedia 10/6/20, 8:39 am EST
The Wild are reportedly trading Ryan Donato to the Sharks for a 2021 third-round pick.
Donato is entering the final year of a two-year deal that pays him $1.9M AAV. With the addition of Nick Bjugstad and Kirill Kaprizov coming over from the KHL, Donato was going to be a fringe roster player in Minnesota. San Jose on the other hand, is in desperate need of some middle-6 wingers. Donato was solid in his 1.5 years in Minnesota, scoring 18 goals with 21 assists (39 points) in 84 games.
Source: PuckPedia 10/6/20, 8:39 am EST
Signing
The Sharks have signed Joel Kellman to a two-year contract extension (20-21: $700k/300k; 21-22: $800k).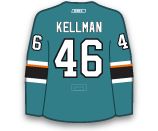 Line Change
Donato will come out of the Wild lineup for Game 3.
The Sharks have signed Timur Ibragimov to a three-year, entry-level contract.
Ibragimov was drafted in the sixth-round of the 2019 draft and spent 2020 in Russia's second and third tier. Ibragimov had a lot of success on the "junior" circuit, posting seven points (5G / 2A) in seven games but had just 13 points (5G / 8A) in 35 games after moving up to the VHL (Russia's second division).
The Sharks signed Fredrik Handemark to a one-year, entry-level contract ($725K AAV).
Handemark was an undrafted free-agent out of Sweden. The 26-year-old centre has played primarily in the Swedish Elite League since 2014 and is coming off of a career-year. He set new career-bests in goals (14), assists (24) to lead Malmo in points (38) in 52 games this season.
The Sharks signed Alexei Melnichuk to a two-year deal worth $1.85 million ($925K AAV).
Melnichuk was high in demand after a strong 2019-20 season in the KHL. The 21-year-old netminder only appeared in 16 games, but went 8-5-1 and finished fourth in the league in GAA (1.68) and tied for 12th in SV% (.930). He signs with San Jose where he could play right away. Aaron Dell is set to become an unrestricted free agent after the 2020 season and Martin Jones struggled with a 3.00 GAA and .896 SV% before the season was paused. Their team GAA (3.21) was fifth-worst in the league, so Melnichuk addresses an immediate need for San Jose.
The Sharks signed John Leonard to a three-year, entry-level contract.
Leonard was a sixth-round pick in 2018 and finished his junior season at UMass-Amherst as a Hobby Baker finalist after tallying a team-high 27 goals and 37 points. In his three-year stint with the MinuteMen, Leonard scored 105 points (56 goals, 49 assists) in 106 career games.
The Sharks signed Brinson Pasichnuk to an entry-level contract.
Pasichnuk was an undrafted free agent defenseman, who served as the captain at Arizona State University for the last two seasons. The 22-year-old defenseman led all Sun Devils' defensemen with 37 points (11G / 26A) in 36 games.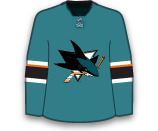 The Sharks signed Radim Simek to a four-year, $9.0 million contract extension ($2.25M AAV) on March 9th.
Simek started the season on IR with a leg injury and missed more time in December after undergoing a knee operation. Overall, he missed 22 games, recording nine points (2G / 7A) with 1.9 hits and 1.3 blocked shots per game in 48 games. Signing a four-year extension means the Sharks have Simek, Brent Burns, Erik Karlsson and Marc-Edouard Vlasic all signed through at least 2024.
Ferraro (foot) travelled to Chicago and could return on Wednesday.
Ferraro has missed the last two games but could play Wednesday in Chicago. Head coach Bob Boughner said that Ferraro's return will be all about "pain tolerance, getting his foot back in a boot." Monitor his status during the Sharks' morning skate.
Couture (concussion protocol) did not travel to Chicago.
Couture took a deflected puck to the face on Sunday and will not travel with the team to start their four-game road trip. With Couture out on Wednesday, Noah Gregor is expected to centre the top line with Evander Kane and Kevin Labanc on his wings.
Goalie Start
Jones starts Sunday vs. the Avalanche.
Goalie Start
Dubnyk starts Sunday in Anaheim.
Goalie Start
Dubnyk will likely start Sunday in Anaheim.