Rooney (illness) will return to the lineup on Saturday.
Rooney sat our of Thursday's game in Washington but will replace Michael McLeod in the lineup on Saturday. Rooney has just one goal and one assist in 27 games this season.
Goalie Start
Schneider will start Saturday in Columbus.
Schneider allowed three goals on 23 shots after replacing Louis Domingue in the Devils loss in Washington on Thursday. Since coming up from the AHL, he's made two relief appearances, stopping 33 of the 37 shots (.892 SV%) that he has faced. Tonight he makes his first NHL start since November 8th and comes in at 0-5-1 with a 4.42 GAA and .859 SV% on the year.
Domingue (lower-body) practiced on Friday; may be available for Saturday.
Domingue was forced to leave Thursday's game in Washington with a lower-body issue but was on the ice for yesterday's practice so he could start or backup tonight in Columbus. He has yet to be cleared as of now, so Cory Schneider remains with the team as well.
Blackwood (upper-body) has been cleared to play on Saturday.
Blackwood has missed the last four games with an upper-body injury but could be in-line to start Saturday's game in Columbus. Blackwood has struggled recently, losing three in a row while allowing a combined 13 goals on 99 shots (.867 SV%).
Mueller (undisclosed) is a late-scratch for the Devils.
McLeod was recalled form Binghamton (AHL) and will draw into the lineup on Thursday.
Rooney (illness) is not on the ice for warmups.
Domingue will start Thursday in Washington.
Domingue was yanked after allowing five goals on 19 shots in the Devils loss in Toronto on Tuesday. The loss snapped a brief two-game winning streak for Domingue, who will make his fourth straight start on Thursday. He draws a tough matchup in Washington, where the Capitals are 6-2-0 with 3.13 goals per game in their last eight.
Source: @NJDevils 01/16/20, 6:22 pm EST
Hughes (illness) will play on Thursday.
Hughes was forced to leave Tuesday's game in Toronto with an illness but was back on the ice for Thursday's morning skate and will play in Washington. Hughes comes in with five points (2G / 3A) in his last nine games.
Rooney (illness) will be a game-time decision on Thursday.
Rooney missed the Devils morning skate due to an illness and will be a game-time decision in Washington. If Rooney can't play, look for the Devils to dress seven defensemen.
Domingue is in the starter's net at the Devils morning skate.
Palmieri (foot) did not travel to Toronto.
Palmieri suffered a left foot injury late in their game in Washington on Saturday and will miss his second straight game on Tuesday. With Palmieri out, Pavel Zacha moved to the Devils' top line with Nico Hischier and Jesper Bratt.
Domingue will start Tuesday in Toronto.
Domingue stopped 26 of 27 shots in the Devils win over the Lightning on Sunday. Domingue has been fantastic as of late, stopping 70 of 73 shots (.959 SV%) in his last three outings. He impressively won back-to-back games over the weekend vs. the Capitals and Lightning and draws another tough matchup with the Maple Leafs in town.
Hughes (upper-body) will return to the Devils lineup on Sunday.
Palmieri (lower-body) will not play on Sunday.
Domingue will start for the second straight night.
Send Down
The Devils have reassigned Evan Cormier to Binghamton (AHL).
Cormier came up to serve as Louis Domingue's backup last night but will swap spots with Cory Schneider ahead of tonight's meeting with the Lightning.
Source: @NJDevils 01/12/20, 1:38 pm EST
The Devils have recalled Cory Schneider from Binghamton (AHL).
With Mackenzie Blackwood hurt and Louis Domingue starting last night, it's entirely possible that Schneider will start tonight vs. the Lightning. However, Domingue played well last night, it is his former team in town and the guy who stole his job is probably starting, so it could be Domingue on back-to-back nights. Schneider has had a tough time in the AHL so far, going 4-4-0 with a 3.00 GAA and .894 SV% in eight starts.
Source: @NJDevils 01/12/20, 1:35 pm EST
The Devils placed Ben Street (upper-body) on IR.
The Devils used the open roster spot to call up Evan Cormier from Binghamton (AHL) to serve as their No.2 netminder while Mackenzie Blackwood is out with an upper-body injury.
Source: @NJDevils 01/11/20, 12:13 pm EST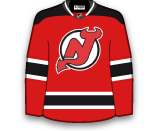 Line Change
Mueller will be a healthy scratch on Saturday.
Mueller has been a mainstay in the Devils lineup for a month but will get a night off in Washington. Connor Carrick will come in to replace him on the Devils' third pair.