Martinook (lower-body) will be a game-time decision for Game 4.
Martinook continues to battle a lower-body injury and is a game-time decision for Game 4 after missing Game 3. "I hope so, but I'm not sure. We'll find out tonight," Rod Brind'Amour told reporters about Martinook's availability for Game 4.
Goalie Start
McElhinney will start Game 4 vs. the Bruins.
McElhinney stopped 29 of 31 shots in the Hurricanes 2-1 loss to the Bruins in Game 3. McElhinney has been great for Carolina during the postseason, stopping 100 of the 106 shots (.943 SV%) that he has faced in three and a half games. McElhinney will need to be as good as he was in Game 3 to give Carolina a chance to stay alive because TuukkaRask has been outstanding in the opposite crease.
The Stars have signed Esa Lindell to a six-year extension worth $34.8 million ($5.8M AAV).
Lindell, 24, has become a fantastic shutdown defenseman for Dallas after being selected in the third-round in 2012. Lindell has some offensive flair to his game as well, scoring 11 goals and 21 assists (32 points) in 82 games during the regular season. The Finnish defenseman had a great postseason, leading all Stars' players in ice-time (26:58 TOI/gm) with four points (1G / 3A) and 34 blocked shots in 13 games. Lindell, John Klingberg and Miro Heiskanen will be among the NHL's best top-3 defensemen for the Stars for many years to come.
Martinook (lower-body) is not on the ice for warmups; will not play in Game 3.
Martinook continues to battle a lingering lower-body issue and will not play in Game 3 vs. the Bruins. Saku Maenalanen will draw into the lineup to replace Martinook on the Hurricanes' fourth line.
Goalie Start
McElhinney led the Hurricanes onto the ice for warmups.
Goalie Start
Rask will start Game 3 in Carolina.
Rask allowed two goals on 23 shots in the Bruins 6-2 win over the Hurricanes in Game 2. Rask has now won five straight starts while allowing just eight goals on 169 shots (.953 SV%). Now the series shifts to Carolina, where the Hurricanes are 5-0 while outscoring their opponents 22-7 in the postseason.
Source: @NHLBruins 05/14/19, 1:50 pm EST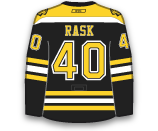 Signing
Goalie Start
Jones will start Game 2 vs. the Blues.
Jones allowed three goals on 31 shots in the Sharks 6-3 win over the Blues in Game 1. Since being pulled in Game 4 in Vegas, Jones has gone 8-3-1 with a 2.20 GAA and .926 SV% in 11 games—including 6-1 with a .919 SV% on home-ice.
The Avalanche signed Adam Werner to a two-year, entry-level contract.
Werner, 22, was a fifth-round pick (No.131 overall) in 2016 and is coming off of a strong campaign with Farjestads BK Karlstad of the Swedish Elite League, going 15-9-0 with a 2.02 GAA, .926 SV% and three shutouts in 26 games.
Kesler underwent right hip resurfacing surgery on Thursday.
Hip resurfacing is a bone-preserving hip replacement that can provide pain relief and increase function in normal activities of daily living. The surgery does leave open the possibility that Kesler could resume his NHL career following a lengthy recovery. "As we all know, Ryan has been fiercely battling his condition for quite some time," said Executive Vice President/General Manager Bob Murray. "I've been extremely impressed by his determination to play despite being significantly injured. At this point, Ryan needs to think about his life and family. The pain he felt was significant and we agree with his decision to have this surgery. While it's unlikely he will play in 2019-20, we will support any decision he makes about his future playing career."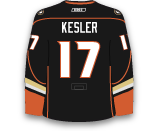 Gunnarsson (lower-body) will not play in Game 2.
Gunnarsson skated prior to Game 2 but will not play in San Jose. Head coach Craig Berube said that Gunnarsson is "very close to being ready," so look for Gunnarsson to play in Game 3 or 4 back in St. Louis.