Signing
The Red Wings have signed Filip Larsson to a three-year entry-level contract.
Larsson was a sixth-round pick (No.167 overall) in 2016 and finished his first season at the University of Denver, where he went 13-6-3 with a 1.95 GAA, .932 SV% and four shutouts in 22 games.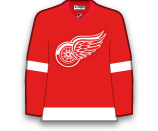 The Avalanche have signed Cale Makar to a three-year entry-level contract.
Makar was selected No.4 overall in 2017 and signs his entry-level contract after winning the Hobey Baker Award in his sophomore season at UMass-Amherst, where he had 16 goals and 33 assists (49 points) in 41 games. The Avalanche just tied the series up in Calgary and there's a chance that Makar could draw right into the lineup in Games 3 or 4.
Signing
Signing
The Blues have signed Bouwmeester to a one-year contract extension worth $3.25-million.