Trenin has been recalled from Milwaukee (AHL) and will draw into the lineup on Tuesday.
The Panthers have recalled Chris Driedger from Springfield (AHL).
Driedger has been sidelined by a lower-body injury since mid-January and was recently sent to Springfield on a conditioning stint. He struggled in his only AHL game, allowing five goals on 33 shots in a 6-3 loss to Bridgeport. He could be in-line to start Thursday with Sergei Bobrovsky (lower-body) listed as day-to-day.
Call Up
The Stars have recalled Jake Oettinger from Texas (AHL).
It sounds like Ben Bishop is dealing with a minor lower-body injury, so Oettinger is expected to serve as Anton Khudobin's backup on Tuesday. Oettinger has gone 12-16-4 with a 2.62 GAA and .912 SV% in 35 AHL games this season.
The Red Wings have reassigned Dennis Cholowski to Grand Rapids (AHL).
Cholowski played in the last three games with the Red Wings, playing just 12:00 TOI last night vs. the Avalanche. With the Red Wings off until Friday, Cholowski goes back to Grand Rapids, where he has 12 points (3G / 9A) in 27 games.
Send Down
The Senators reassigned Josh Norris to Belleville on Sunday.
Norris being sent back to the AHL suggests that Anthony Duclair is set to return from injury. Norris had no points but fired nine shots in 17:55 ATOI in his first three NHL games.
Source: Murray Pam 03/2/20, 10:50 am EST
The Senators have recalled Filip Gustavsson from Belleville (AHL).
Marcus Hogberg was not on the ice for Monday's practice, so you have to think Gustavsson's call-up is related to a Hogberg injury. Gustavsson has gone 15-5-3 with a 3.28 GAA and .885 SV% in 23 AHL games this season.
Send Down
Quinney has been reassigned to Chicago (AHL).
Pirri was recalled from Chicago (AHL) and will draw into the Golden Knights lineup on Sunday.
The Ducks have recalled Anthony Stolarz from San Diego (AHL).
MacInnis was recalled from Cleveland and will draw into the Blue Jackets lineup on Sunday.
The Flyers recalled Joel Farabee from Lehigh Valley (AHL).
Farabee has been summoned from the AHL because Sean Couturier is questionable to play Sunday afternoon due to illness. If Couturier can't play, Farabee will draw into the lineup.
Source: @NHLFlyers 03/1/20, 11:21 am EST
Send Down
The Canadiens have loaned Keith Kinkaid to Charlotte (AHL).
Boqvist has been recalled from Binghamton (AHL) and will meet the team in Anaheim.
The Blackhawks have recalled Brandon Hagel from Rockford (AHL) under emergency conditions.
Hagel was a sixth-round pick of the Sabres in 2016 but signed with the Blackhawks in 2018. The 21-year-old winger has scored 19 goals with 11 assists (30 points) in 55 AHL games this season and could be set to make his NHL debut on Saturday.
The Kings have recalled Mikey Andersson from Ontario (AHL).
Quinney was recalled from Chicago (AHL) and will be in the Golden Knights lineup on Friday.
Call Up
The Jets have recalled C.J. Suess from Manitoba (AHL).
Suess has scored 13 goals with 13 assists (26 points) in 54 AHL games this season. Suess' recall is likely related to Patrik Laine getting hurt on Thursday, suggesting Laine won't be available for Saturday's game in Edmonton.
The Blue Jackets reassigned Calvin Thurkauf to Cleveland (AHL).
Thurkauf, 22, played in three straight NHL games but returns to the AHL with Alexander Wennberg and Riley Nash returning to the Blue Jackets lineup. Thurkauf has nine goals and 16 assists (25 points) in 47 games with Cleveland.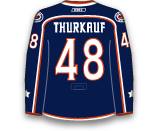 Send Down
The Islanders have loaned Josh Ho-Sang to San Antonio (AHL).
Ho-Sang has been playing with Bridgeport (AHL) but is being assigned to the Blues' AHL affiliate in San Antonio. Ho-Sang is still the property of the Islanders but this obviously isn't a good sign for his future with the team. It's been a rocky relationship since he was selected No.28 overall in 2014.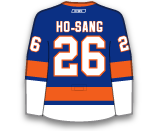 The Sabres have reassigned John Gilmour to Rochester (AHL).
Gilmour did not appear in a game during his most recent call-up. Lawrence Pilut will take his spot on the roster with Gilmour returning to the AHL, where he has 13 points (6G / 7A) in 32 games this season.
Source: John Vogl 02/27/20, 2:19 pm EST